Call centre dashboards are often crowded with dozens of performance metrics. Crucially though, not all metrics are created equal. In the pursuit of meaningful performance improvements, it's essential for your call centre to develop a balanced scorecard of metrics.
First Contact Resolution (also known as First Call Resolution, or FCR) is one of the most crucial metrics you need to include on that scorecard; and today, we're looking at exactly why FCR is such an essential call centre metric.
1) It Directly Improves Call Centre Performance
If we distil it down to its simplest essence, a call centre's primary function is to resolve customer enquiries. Whenever a customer calls your centre, they're looking for a solution to a problem – whether they're confused about an application process, or simply trying to purchase something.
Unfortunately, in virtually all call centres, a significant number of calls remain unresolved after first contact. These customers contact your company for the sole reason of solving a problem, and at the end of their call, find themselves no closer to having an answer.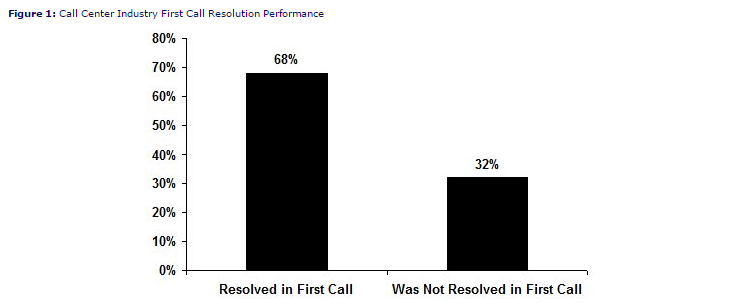 Mike Desmarais, SQM Group, 2006
The average First Contact Resolution rate for the call centre industry is estimated at just 68%. That means that 32% of all customers are left feeling frustrated at the end of their experience with your call centre. In order to solve their problem, these customers are required to call back and speak to another agent – taking up valuable agent time that should have been used to serve other customers.
This means that the average call centre enquiry takes 1.4 calls to resolve. By improving your FCR, even marginally, you can significantly improve the performance of your call centre – freeing up additional resources, and reducing operating costs.
2) It's More Customer-Focused Than AHT
Average Handling Time is designed to encourage agents to conclude each call as quickly as possible. Crucially though, it doesn't incentivise the successful conclusion of each call. When looking at AHT, a minute-long unresolved call is deemed as successful as a minute-long resolved call – despite the fact that the former will likely frustrate the caller, and generate an additional call at a later date.
FCR is a great way to encourage efficient and effective call resolution. It offers many of the performance benefits of Average Handling Time, but it also prioritises the customer experience, as well as operational efficiency.
3) It's Correlated with Customer Satisfaction
As an inherently customer-focused metric, it shouldn't be surprising to learn that improved First Call Resolution rates are directly correlated with improvements to customer satisfaction scores. As the graph below shows, the more efficient your call centre becomes at resolving queries on the first call, the more satisfied customers become with the service on offer.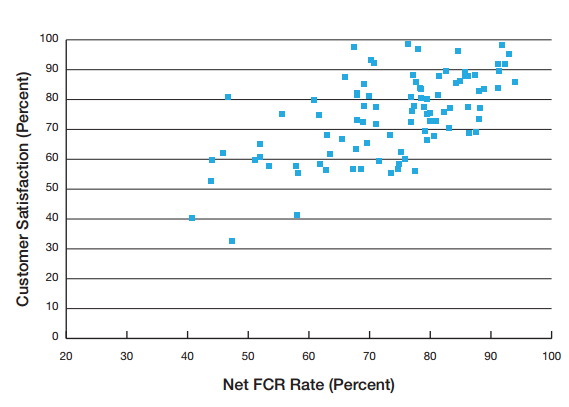 These higher satisfaction scores can often translate into increased customer loyalty. When customers have their query resolved on their first call, it's estimated that just 1% are at risk of defecting to a competitor brand. In contrast, customers who failed to have their query resolved on the first contact were fifteen times more likely to turn to a competitor.
To learn how to build a balanced scorecard of performance metrics for your call centre, you can download our new whitepaper below.