You're worried that your 80/20 service level target isn't the right choice for your call centre. Chances are, you're right.
However, new service level targets shouldn't be taken lightly. Your service level can have huge implications for customer service, agent experience, and of course, profitability. Assessing cost is the first step in choosing a new target for your call centre; and whilst there's no substitute for a WFM-driven service level cost analysis, a 'guestimate' can be a useful first step.
With this in mind, we've put together a worked example of how to use the Erlang C formula to help you quickly compare new and old service level targets.
Checking the Cost Implications of a New Service Level Target
Select a sample of calls offered (NCO), and average handle times (AHT) for a period of time. In this example, we'll select a single day, and put the figures into columns B and C of our table.
Enter your existing and proposed service level targets. In this example, the baseline will be 80% of calls to be answered within 20 seconds, and the proposed target will be 95% of calls answered in 20 seconds.
Use an Erlang C formula to calculate the required staff to achieve your service level target for each 30 minute interval for each scenario (Excel plugins to achieve this are available free online).
You can then immediately see an estimate of the impact on staff levels of increasing your service level target – in this case, a 7% increase in demand.
Worked Example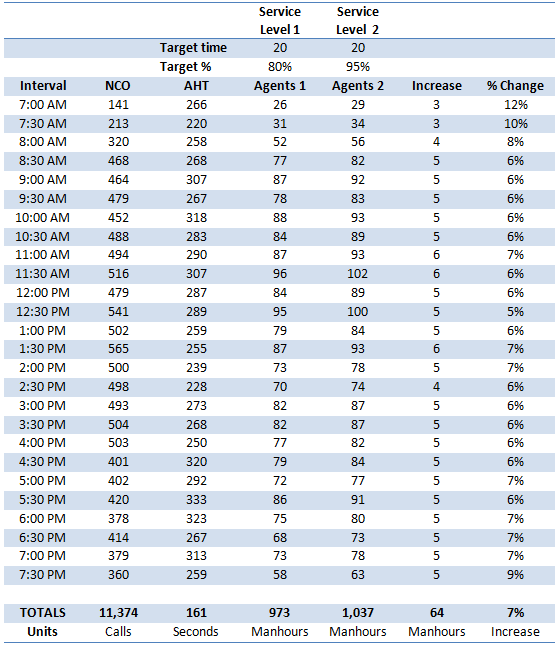 Improving Accuracy
By using Erlang C to estimate the number of agents you need to achieve different service level targets, you can quickly create a first-pass estimate of the change in staffing needed (if any).
This is a first-pass estimate because it employs a few simplifications:
The 'agents' number calculated for each 30 minute interval doesn't factor shrinkage into its calculation.
This calculation looks at a single day – something which 24/7/365 call centres need to take into account.
To improve the accuracy of your estimate, it's necessary to create schedules for each scenario that take into account all the real world labour rules and limitations you have to deal with at your site, over a period of several months (a process we've covered in How to Calculate the Cost of a New Service Level Target).
However, if you want to quickly estimate the cost of increasing your service level – allowing you to, for instance, 'guestimate' if additional sales are worth the investment – you can improve your spreadsheet by adding in these factors: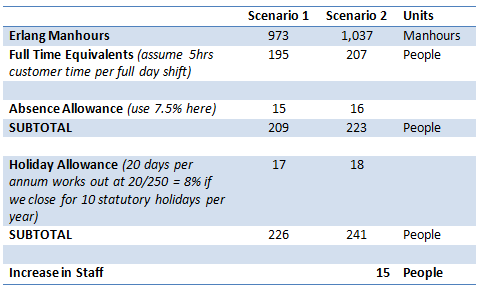 An over-reliance on spreadsheets can be extremely damaging to a call centre's performance – but for quick estimates and rapid benchmarking, they're still a hugely valuable tool.
Armed with these simple calculations (and the Erlang C formula), you'll be able to be able to quickly estimate the costs of a new service level target – and work out whether your 80/20 service level really is right for your call centre.
To learn about an automated way to ensure you achieve service level targets, download our free executive summary below.